Meet Carole Montgomery... A real funny woman of a certain age.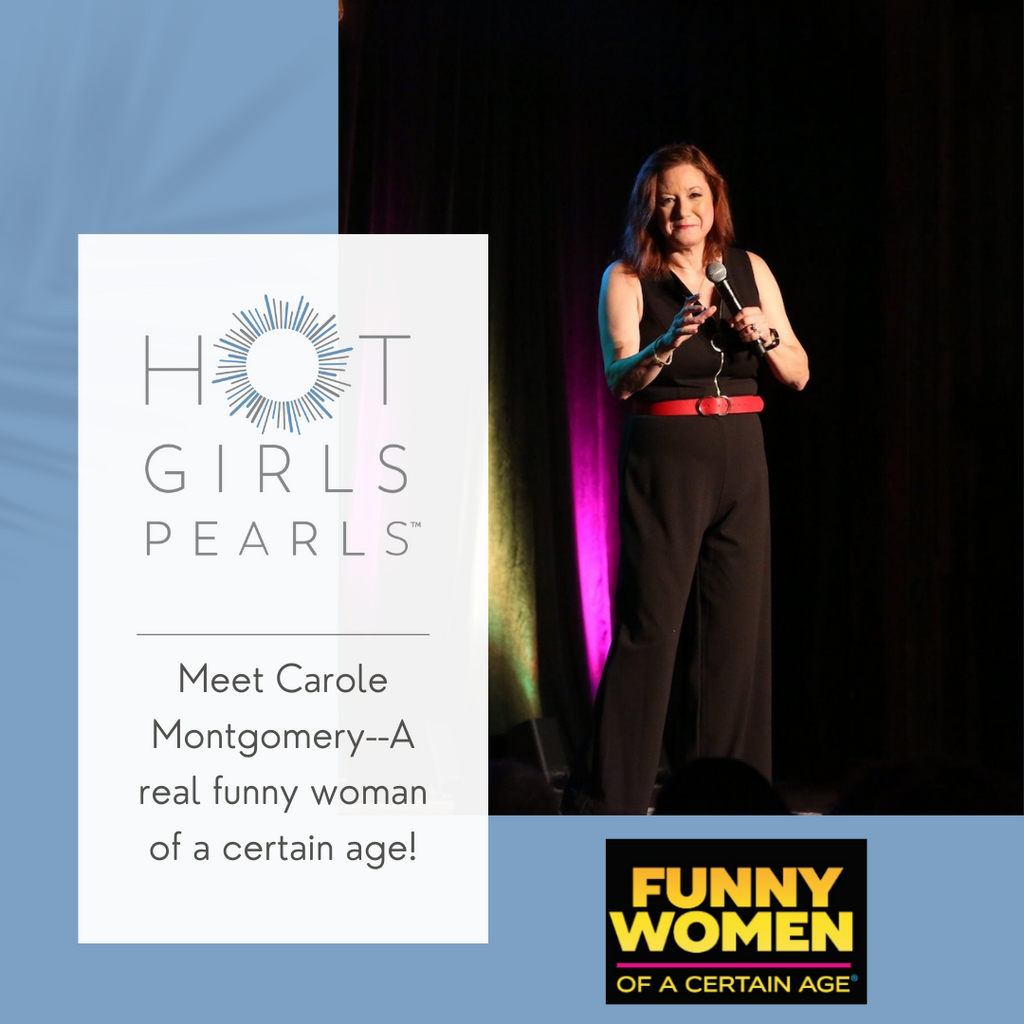 "If I had to choose between ageism or sexism, I'd take a pat on the behind any day, since that meant someone noticed me."
                         Carole Montgomery, creator of Funny Women of a Certain Age
We had the pleasure of meeting Carole back in October at a menopause event in New York City, she was not only funny and charming, but is also a real champion of women. 
Hot Girls Pearls has formed a COOL partnership with Funny Women of a Certain Age and we wanted to share Carole's story, how Funny Women of a Certain Age came about, and upcoming tour dates. Because who doesn't like to laugh.😂
What began as a way to work with her friends has exploded on the comedy scene.  When Carole (a veteran of stand up for over 40 years) started, you would never see two female comics on the same show.  Fast forward to today's comedy scene and little has changed even though there are way more women in comedy.
Funny Women of a Certain Age or WOACA, was created to give older female comics a chance to be seen and heard.  Frustrated with how women were portrayed on television once they hit 50, Carole decided to do something about it.
Carole's fighting ageism AND sexism one joke at a time.  The women who appear in WOACA are all funny, vibrant and brilliant, they just happen to be of a certain age. These women paved the way for the female comics you see today.
The first TV special for the Showtime Network featured Fran Drescher, Carole Montgomery, Luenell, Lynne Koplitz, Vanessa Hollingshead, and Kerri Louise.  The special premiered March 23rd, 2019 and it made TV history as the first comedy special to feature 6 women over the age of 50. In fact, the special was the network's highest rated premier of a stand up show for 2019.  Two more specials followed in 2020 and 2021 including such comics as Caroline Rhea, Carol Leifer, Teri Hatcher, Wendy Liebman, Tiffany Hadish, and Wanda Sykes to name just a few.
We are all a product of our environment to some degree and that was true for Carole as well, as you see in her own words.
Where did you grow up?
I grew up in Brooklyn, NY.
When did you know you were funny?
I grew up with a larger than life father who was the life of the party. I got my sense of humor from him. He was a bartender in the Catskill Mountains and I would sit with him while he was setting up the bar in the afternoon. The comics playing there would come in for a sound check. So I met Jack Roy (later Rodney Dangefield), and Totie Fields. One summer there was a talent show and I remember taking a "sketch" from the Soupy Sales show and putting my own spin on it. Hearing the laughter changed my life.
How did you get your start?  Did you have a male or female mentor?
I was working summer stock as an all around techie. I would banter with the crew and one of them said to me "You should try standup and I did". When I returned home I went to Pips Comedy Club in Sheepshead Bay. That's where Joan Rivers and David Brenner worked when they were starting out. Later a gentleman named Peter Spellos was running a comedy club in the city called Who's on First ( it's now a Dunkin Donuts). Peter was my mentor.
Did you always want to be a comedian?
I think so. I do know that once I started down this road it felt like THIS IS WHERE I BELONG.
Were there any comics that inspired you coming up the ranks?  If so, who?
I remember seeing Freddie Prinze on the Tonight Show in 1973. It was an incredible set. And Richard Pryor's first concert film is still the best stand up comedy ever.
What is the camaraderie like with other female comics?
Years ago there weren't many females so there was way more competition to get that coveted spot. Now there's a ton more women in comedy and we're blazing the trail for the women coming up behind us. Sarah Silverman, Chelsea Handler, Amy Schumer have all helped their female peers tremendously. I created Funny Women of a Certain Age for this reason. To give women a chance to be seen and heard in a very male dominated field.
Is it different than with men?  How?
I have many male comic friends but honestly, they're more likely to help another guy than a woman. There's kind of this BRO RULE. I don't think it's on purpose.....well maybe SOME of the guys are like that.
For more information on WOACA, and their tour dates, please check out the link below.  Hot Girls Pearls will be at the May 5th show at The Kate Theater in Old Saybrook, CT.  We hope to see you there!